Wow. Just when you think it can't get worse...
"Systemic Transformation of the World" Schwab wants less "White People"
WEF Says US Must Implement 'One Child Policy' For White Families
(Just Like China)
In this video Biden says here, that white people will be the minority.
YES! Klaus is a White Nazi but as you can see it's one rule for the Satanists and another for everyone else. Like you will see Queen Justin Trudeau below, admitting he hates white people, although he is one.
You see for the Satanic agenda to work, they need weak peasants always voting for Liberals, therefore they cannot have "White people" because most white people are conservatives unless they have been indoctrinated otherwise.
He says in the video that "each country should be able to chose it's own policies" but ya no, HE RUNS THE COUNTRIES SO THE "CHOICE" WILL BE HIS!
"Ve Penetrates Ze Cabinets" - Klaus Schwab
He wants you to "Own nothing and be happy" while eating crickets and meal worms.
FLASH:
"You will own nothing and be happy" was an article on the WEF website. It is now GONE! I couldn't even find it on "WAYBACKMACHINE!" and all the search engines are saying "it was a thing started by right wing conspiracy groups!" If anyone has a copy of the actual page please share it. Maybe you used it on your website or have an original link to it. They erase history like they erased the Georgia Guidestones! They figure in a few years everyone will have forgotten about it and future generations won't even know these things existed!
"THE BIGOT BOUNCE"
This is brilliantly done by "https://t.me/tofutv"
Note how he contrasts Don Cherry against Queen Justin. They both said the same thing "THOSE PEOPLE" but Don Cherry was fired for saying "those people" referring to Muslims whereas Queen Justin said "those people" referring to WHITE CANADIANS (still remains Queen Justin of Kanada).
Notice how the video shows Peaceful White Protesters in Ottawa (many of them Canadian Veterans) being beaten by United Nations soldiers (which Queen Justin had Canadian Soldiers TRAIN on Canadian soil for just such encounter, JUST IN CASE Canadian Soldiers might not want to beat on Peaceful Canadians which they took and oath to SERVE AND PROTECT not BEAT DOWN BECAUSE SOME QUEEN FAGGOT IMPLANTED BY WORLD ECONOMIC FORUM TOLD THEM TO! Yet Queen Justin calls the white Canadians "Bigots"
Queen Justin and her regime call everyone else nazis and bigots, yet it was the Queen who had Canadians beaten and trampled by her horses and force inject people with experimental drugs and freeze their bank accounts and steel their stuff, vandalize their vehicles, shut down their businesses, muzzle their faces so they can't breath or talk. Take away their free speech, censor the internets, eventually not even let you get on the Internet unless your Commie Score is within their acceptable range, and then, you can only VIEW things acceptance to the Nazis, not POST or Broadcast anything! And now they want to track, trace everyone and program their money so that even if they have their own money, THEY (the real nazis) dictate where and when they can spend it and if they DON"T spend it, it expires!!!
The real sad part is that there are so many who still believe this is all a conspiracy. Ya, people getting beat up by UN soldiers on Canadian soil while the Queen runs away and broadcast her views from undisclosed location, that's all conspiracy. People who still think like that are delusional. Maybe some sort of Stockholm Syndrome Psychosis. Their brains go into as some sick coping mechanism so they can deal with the truth. These are the weak, the daft, the naive.
Who are the Nazis here? Who are the real Criminals?

Speaking about Don Cherry, I didn't realize but there was another sports announcer fired for supporting Heterosexual Men!
https://www.hollywoodreporter.com/business/business-news/nbc-sports-roenick-lawsuit-1234966105/
Apparently it's not cool to be NORMAL anymore! The faggots that fire people like this need to know if it weren't for normal heterosexual couples, THEY WOULD NOT EXIST!
bigot
bĭg′ət
noun
One who is strongly partial to one's own group, religion, race, or politics and is intolerant of those who differ.
. A hypocritical professor of religion; a hypocrite; also, a superstitious adherent of religion.
A person who is obstinately and unreasonably wedded to a particular religious or other creed, opinion, practice, or ritual; a person who is illiberally attached to any opinion, system of belief, or party organization; an intolerant dogmatist.
The American Heritage® Dictionary of the English Language, 5th Edition.
Nazis Live and Well In Ukraine but Canada & US keep supporting them!
This clip actually aired on City TV (Toronto Canada). In Europe, the Nazi Azov Battalion does not hide. They embrace their Naziism. In the background you can see some citizens giving them the Hail Hitler salute. THIS IS WHAT CANADA AND US ARE FUNDING AND SUPPORTING!
The faggot prime minister of the country formerly know as "Canada" (Queen Justin) will take every opportunity to call White Canadian people racist, antisemitism homophobes… but then will still give billions to foreign groups his own government had previously deemed racist and antisemitism!
This is what Putin is trying to stop (as well as the biological weapons labs there, funded by Biden family) but hey man, let's all fly Blue and Yellow flags in support of Ukraine because Mean Putin "Invaded" them right!? Putin is trying to LIBERATE the Ukrainian people from the Nazis and the Bio Weapons manufacturers FFS! The man deserves a medal! People think he just got up one day and decided to "invade Ukraine" like he had nothing better to do!
here's some more pics
You can see in the video that the Canadian Military met with the Azov Military. Azov media reports that Canada says they will help them. Although Canada's Military Media says "we don't support Nazism" BUT THEY DO! They helped TRAIN Nazis AND FUND THEM TOO!
Notice the "Toronto CITY NEWS reporter" Asian with earrings in both ears. This means he/she is a flaming homosexual. You can't get a job in Toronto (or Canada for that matter) unless you are;
1) NOT WHITE
2) you have to be queer!
3) can't be Christian either. Satanists hate Christians.
Normal Whites heterosexual people are conservatives. They will NEVER vote LIBERAL. So you see what you need to be to get a job in Canada?
"unpleasant to her!" that's why she painted her face black and other colours;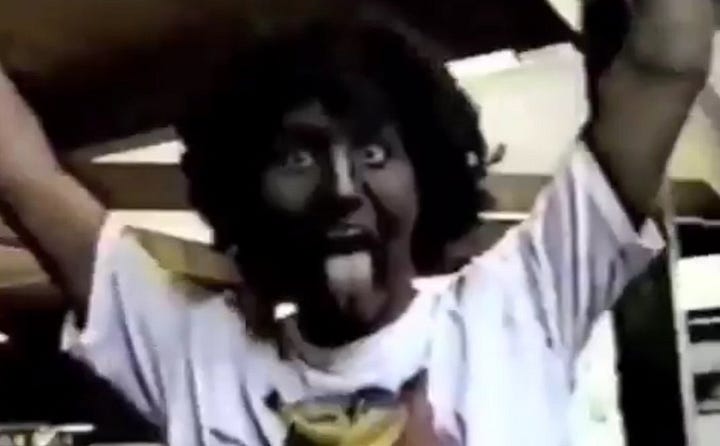 15 Minute Cities to Save the Environment!
Look how we're Saving the Environment Kids! 😂👌😡
"It's for your Safety"
(term used in Nazi Germany)
Coming to your area soon UNLESS YOU STAND UP AND DO SOMETHING ABOUT IT! QUIT TAKING THEIR DRUGS! QUIT PAYING TAXES! DON'T COMPLY WITH ANYTHING THEY SAY!
Chinese Communist Party infiltrated Doug Ford Conservatives, Trudeau Liberals: sources
Vincent Ke is a Progressive Conservative member of Premier Doug Ford's government since 2018.
article: https://thepostmillennial.com/chinese-communist-party-infiltrated-doug-ford-conservatives-trudeau-liberals-sources?
Didn't I tell you? Ford was a staunch conservative until meeting with Gates in summer of 2019. After that he went full commie. It seems by then, his government was already "infiltrated" or "Penetrated" as Klaus says.
US Banks are Collapsing at "Warp Speed"
Thanks for reading I Want The Truth Newsletter! Subscribe for free to receive new posts and support my work.
MLLHR HSMC